Psychotherapy for Adults in Seattle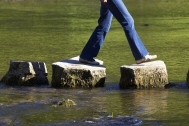 I am a Licensed Mental Health Counselor in Washington, certified in Adoption and Foster Care Therapy, and in Attachment-Trauma Focused Therapy. I have practiced psychotherapy for over 17 years. In 1997 I received my Masters Degree in Psychology and Mental Health Counseling from Antioch University. In addition to psychotherapy, my work as a clinician and counselor has included crisis case management, in-patient treatment, and training, supervision and oversight of other clinicians. I have held positions in community mental health centers, hospitals, residential care settings, agencies and private practice settings in the Seattle area since 1992.
Seattle Psychotherapy: Creating Change
My work with adults focuses primarily on attachment-related issues and trauma. I see many adults who are part of an adoption triad. In our work together we may address experiences of anxiety and depression, adjustment to major life transitions, process issues of grief and loss, improve relationship dynamics, unpack complex identity issues, and process and resolve impact of abuse and trauma. The time frame and the process of therapy will be tailored to the concerns you present and the goals that you have.
Most individuals who come to see a therapist know there is something they want to change but they may feel stuck as to how to do so. Sometimes there are reasons for holding on to old patterns that are outside of our immediate awareness – we may be deriving some unrecognized benefit or sense of safety from keeping things the same, even as we want very much to change. Or we may be waking up to the understanding that systemic problems in the world have impacted our own development and identity. We may have had formative traumatic experiences that convinced us we are not safe, accepted or valued in the world. What will happen – good or bad – to our relationships, our routines and our sense of ourselves and our own safety if we attempt to make significant changes?  Therapy can be a place to explore these possibilities, to become conscious of our unconscious road blocks, and to resolve and negotiate internal conflicts that can lead to action and change.
Psychotherapy: Achieving Awareness
In psychotherapy, in order to acheive new awareness , we may explore the history of your life, your relationships and your past decisions to understand old hurts and inhibitions, looking at things in new and deeper ways, and updating old perspectives and habits that are not longer useful or productive. We may explore your culture and your heritage, examine what you've learned and how you've experienced others and the world around you, including the formation of biases and assumptions that may be limiting. You may find that we talk sometimes about your history and sometimes about your present day life, knitting them together, in order to understand how the past influences the present.
EMDR with Adults
When there has been trauma – either a single traumatic event or a more complex history of trauma – EMDR can be a useful tool for addressing it. Eye Movement Desensitization and Reprocessing (EMDR) is an evidence-based, integrative psychotherapy technique that has been extensively researched and proven effective for the treatment of trauma. It involves eight phases and can be completed over a relatively short course of therapy, or can take a longer period of time, depending on the history of trauma and the needs of the client. Focus on target memories, as well as bi-lateral stimulation (eye movement, use of hand-held buzzers or other method) is utilized to assist the brain in achieving a state similar to REM sleep, where "stuck" memories can be "unstuck" and reprocessed. For more information on EMDR, go to https://www.emdria.org/page/120 
Getting Started with Psychotherapy
If you are seeking help for yourself, your child or your family, I invite you to explore here to find out more about my services and philosophy of psychotherapy. Contact me at 206.498.9895 or send me an email for further questions about my services or to schedule a psychotherapy appointment.