In my Seattle office I see infants and very young children with their caregivers, in dyadic formation. Children develop in relationship with their caregivers, and so are best treated in the context of those relationships. You, as parent/caregiver, are the most important and influential figure in your child's world. I can help you recognize and understand your child's experience, and help you identify and mitigate issues that are causing distress for your child or interfering with healthy development.
Helping Children Deal with Complex Experiences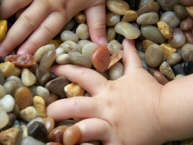 Many of the children I see have backgrounds that include foster-care or orphanage experience, abuse or neglect history, cultural and language changes, multiple losses and transitions, and/or the changes related to being adopted into a new family. The therapy work we do together may involve attending to attachment, behavioral problems, emotional regulation, social skills issues, and daily functional regulation (sleeping, eating, etc).
Play and Art Therapy for Children
With children I often make use of play and art therapy techniques. Children communicate through their play and art in ways they may not yet be able to do verbally. Many conflicts and issues can be addressed and resolved by working with the metaphors that emerge in natural play and art. I will also make referrals as appropriate for other related services, and I may consult with others – pediatrician, teachers, other caregivers and other people or systems involved in the child's world to develop a complete picture of each child's resources and challenges.
Contact me to inquire about therapy for children in Seattle.