Seattle Counseling for Children and Adolescents
*Please note, I am not accepting new child clients at this time.
Counseling for Adopted Children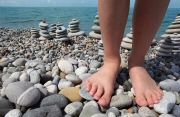 Families are formed in many ways. I see adopted children and their families and also other kinds of families in my practice. Many children and adolescents may benefit from psychotherapy for a variety of stressors. In my practice I tend to work with children who have experienced or are experiencing issues related to adoption and attachment, and connected issues of neurological and learning differences, social skills difficulties or other school problems, communication issues with parents, trauma, abuse or neglect history, compulsive behaviors, mood and emotional regulation issues. For teens there may be struggles with identity and independence, fears of the future, feelings of pressure, problems with self-esteem, defiant behaviors, self-harming behaviors, and school refusal.
Adopted children may benefit from counseling in order to develop closer connections with their families, and to develop functional family skills and behaviors versus the kinds of survival skills they may have depended on in prior settings. These children may need to process grief and loss related to the many changes in their short lives. They may need help forming a healthy sense of identity, or exploring cross-cultural issues. They often need help making sense of their own complex backgrounds and putting their life stories in a comprehensible order. Therapy with these children and their families will likely include a variety of interventions and techniques, including addressing family dynamics, building skills for self-management, narrative work, art and play therapy techniques, somatic therapy techniques, cognitive behavioral therapy and EMDR. We work together to develop  healthy attachment, regulation, and competency.
Counseling for School-Aged Children
In my work with school-aged children and teens I generally start by meeting with parents for as many sessions as it takes to establish an understanding of the family, the child's history and the parents' concerns. Depending on the age of the child and the unique circumstances I may then meet for sessions with the child and parents together or with the child alone.  If attachment issues are a focus, parents will continue to be involved in the sessions. Additional parent sessions will be scheduled separately to go over the initial assessment & treatment plan, update parents on treatment progress, and address any new concerns as the treatment proceeds.
Seattle Play Therapy and Art Therapy
With school age children I may utilize play and art therapy techniques. With adolescents my approach may involve more verbal dialogue, structured games, art work, and possibly group work, depending on what each child needs and responds to and how they express themselves. We may also utilize relaxation techniques, role-playing or writing in order to help children develop insight and a healthy sense of control.
EMDR with Children
EMDR with children is utilized as an effective method  when past traumas have not been resolved and are continuing to cause distress for the child, often in the form of negative beliefs, low self-esteem, anger, guilt and post-traumatic reactions. Eye Movement Desensitization and Reprocessing (EMDR) does not involve any drugs or hypnosis, and is an evidence-based psychotherapy procedure. The child is simply guided in concentrating on a troubling memory or emotion while holding "tappers," which are vibrating hand-held pods, that provide bi-lateral stimulation. This bi-lateral stimulation helps the brain achieve a similar state to REM sleep, and helps to move memories from a "stuck" state to a more fluid state where they can be more fluidly processed.